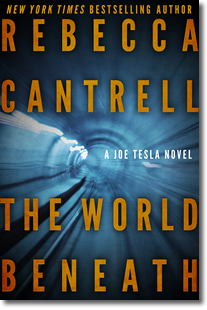 "The World Beneath" was nominated for the Best Ebook Original Novel award by International Thriller Writers. The winner will be chosen at Thrillerfest in New York in July.
I'm nominated with a wonderful group of writers and books: J.G. Faherty for "The Burning Time, " Joshua Graham for "Terminus," James Lepore and Carlos Davis for "No Dawn for Men," and  Luke Preston for "Out of Exile." Congratulations to all!
International Thriller Writers has always had a very special place in my heart. I was part of their Debut Author program when my first novel was published, and I've made many friends through the organization over the years.  For me, it's been the best writing organization I belong to. I've been constantly struck the by kindness and generosity of the writers there–some of the biggest names in writing and some of my literary heroes. And to actually be nominated for one of their very prestigious awards has knocked my socks off!
Sure, my feet are cold without socks, but it's worth it!