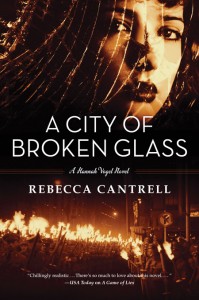 Today I'm happy to announce the paperback release of the fourth book in the Hannah Vogel series, 
A City of Broken Glass
! It's a later release than usual, but I think it was worth the wait. This is my current favorite in the series (I always love the last one best).
A City of Broken Glass got some critical nods when it came out in paperback, getting nominated for the Mary Higgins Clark award, the Sue Federer Macavity award, and the Bruce Alexander award.
In this book, Hannah Vogel and her adopted son Anton are forced into Germany during the events that would be later known as Kristalnacht (and now Reichspogromnacht). And Hannah meets back up with Lars and…well, you'll have to read it to finish that sentence. Suffice it to say that it made some hardcover readers very happy and others very angry. It's not easy being Lars. Or Hannah.
Lately, I've been getting worried emails asking about the next Hannah Vogel book. I know I've been writing other things (The Blood Gospel, Innocent Blood, and The World Beneath), but don't worry! Hannah Vogel is still very close to my heart. I'm outlining the fifth book in the series, The Aftermath of War, set in 1945 where Hannah will go into Berlin in the last few days before the surrender to the Russians as part of an American strike force tasked with bringing out Andreas Huber (remember him from A Game of Lies, the scientist?). It will be be based on the real-life Operation Paperclip–where American teams went into Germany ahead of the troops to find and capture German scientists. The most famous scientist brought to the United States under that program was Werner Von Braun (head of NASA's Apollo moon missions).
In other news Hannah Vogel: this July I'm working with Shalom European Travel to lead an exciting tour of Hannah's haunts in Berlin.  (
Here's more information
). I hope to see you on her cobblestone streets!