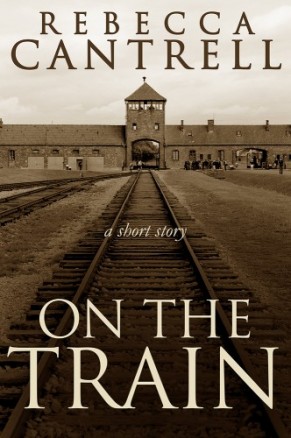 Dachau, 1985.
A well-read but naive teenage girl visits Dachau. She's read about the Holocaust for school, and a few survivor accounts on her own (Night by Elie Wiesel, Man's Search for Meaning by Viktor Frankl), but that doesn't prepare her for this place. It's October and everyone is away at Oktoberfest, so the building are abandoned. She's alone with the cold wind and the ghosts as she steps through the gate which says "Arbeit Macht Frei"  (Work Liberates).
She doesn't believe in ghosts, but she can't deny the presence there. It's not so much evil as grief. Deep, unending grief.
She stands in front of a wall displaying the fabric triangles that prisoners wore on their uniforms–red for political prisoners, green for criminals, yellow for Jews, pink for homosexuals. There are so many categories, and so many who died here. But the pink triangle stops her because her host brother is German and gay. Forty years ago, he might have been sent here.
——————————————————–
Yes, that Alaskan girl was me, and that moment stuck with me for years. Eventually I tried to deal with it in fiction when I wrote a one act play about a Jewish man on a train going from Auschwitz to Dachau and a man he meets on the way. They reveal and conceal secrets, both trying to connect and stay alive in this new horrible world they have been thrust into. I converted that play into a short story, and it ended up being my first published work.
I've published an ebook version of On the Train to share it with readers. I hope that you can feel that moment, question what you would do, and glimpse that long ago time. I'd love to hear what you think of it.